Mariposas de Bolivia
sitio 62
first update d. 27 February 2010
last update d. 27 November 2020
Redactor: Lars Andersen
bajo construccion
Brassolini.
The Brassolini are a neotropical tribe which includes the very large "owl butterflies" (Caligo), as well as a number of other striking species. Many of them are crepuscular, exhibiting rapid flight that almost makes them look like bats. They are often seen in the blue hour before dusk, or on cloudy days. Going to the rotten fruit, carrion and excrement. The larvae of brassolines feed on monocots, and some species are pests of palms.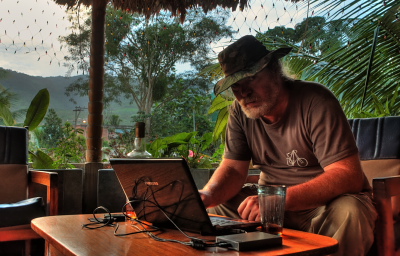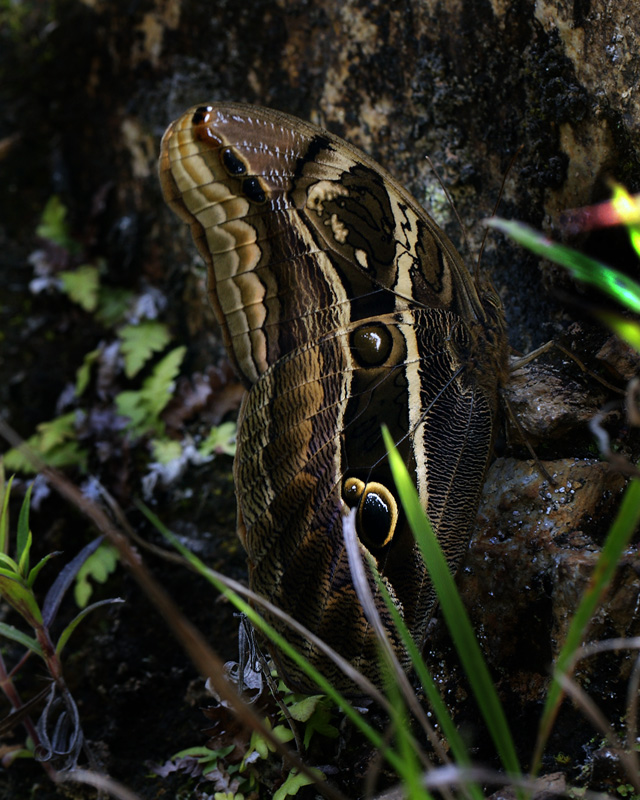 Between the Andes bamboo you can be lucky to see the beautiful Double Spotted Owl Butterfly, Eryphanis zolvizora. It is active in cloudy weather and late on days in the blue hour.
---
Caligo teucer phorkys. Puna, Coroico 1900 m.h. d. 13 january 2012. Photographer: Lars Andersen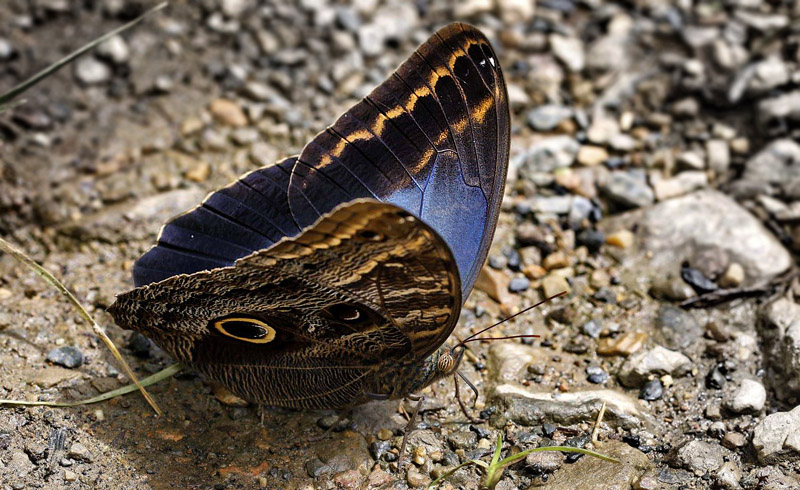 Caligo illioneus pheidriades. Caranavi 1000 m. Yungas, Bolivia d. 20 January 2014. Photographer: Ole Andersen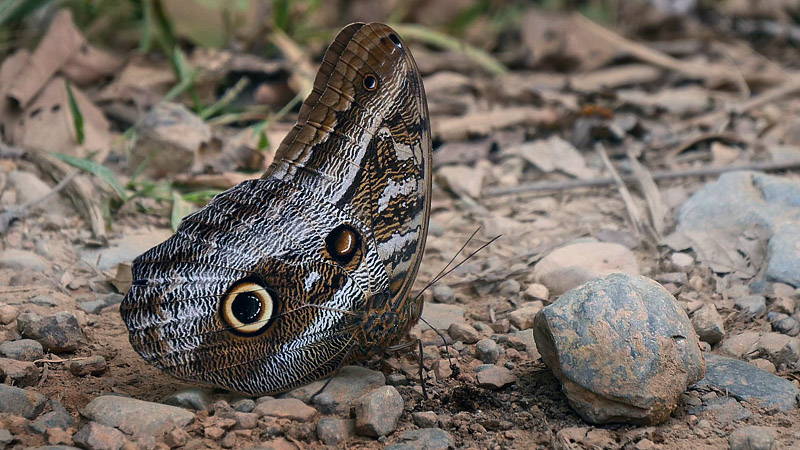 Illioneus Giant Owl, Caligo illioneus ssp. pheidriades (Fruhstorfer, 1912).
Copacabana, Caranavi, Yungas, Bolivia January 23, 2016. Photographer; Peter Møllmann
Idomeneus giant owl, Caligo idomeneus (Linnaeus, 1758). Florida, Parque Noel Kempff, Bolivia september 25.-28, 2021. Photographer; Gottfried Siebel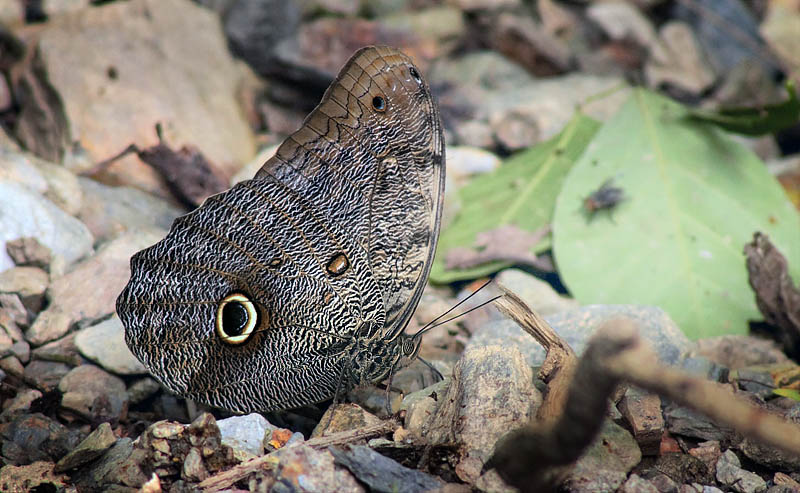 Forest Giant Owl, Caligo eurilochus ssp. pallidus. Pusiliani, Caranavi, Yungas, Bolivia January 19, 2016. Photographer; Annelise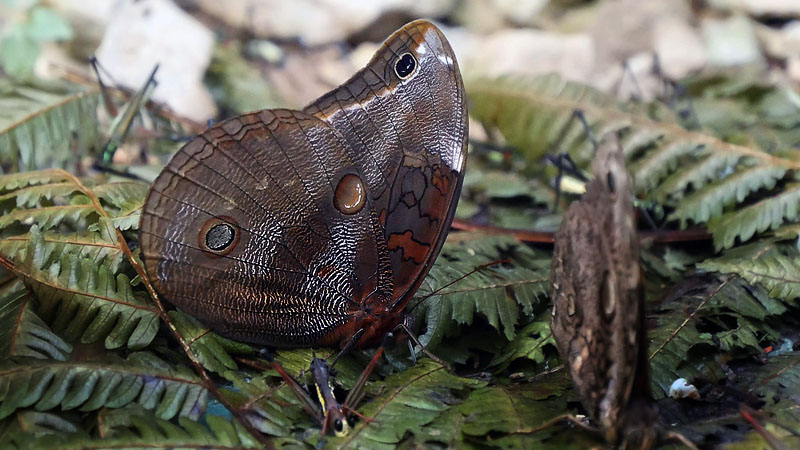 Ocellted Owlet, Catoblepia xanthicles ssp. belisar (Stichel, 1904).
Copacabana, Caranavi, Yungas, Bolivia January 24, 2016. Photographer; Peter Møllmann
---
Mariposas de Bolivia
Enero - Febrero 2010
por Peter Møllmann y Lars Andersen
---
Mariposas de Bolivia
Enero - Febrero 2009
por Peter Møllmann y Lars Andersen
---
link to Neotropical Butterflies of Will Carter and Kim Garwood, Metalmarks
---
Pale-haired Palmking,
Amathusia ochraceofusca ssp. gabriela
(Fruhstorfer, 1905).
Tribe Amathusiini.
Nanga Sumpa longhouse, Upper Batang Ai, Sarawak, Borneo
d. 4 fapril 2015.
Photographer; Hanne Christensen
Common Palmking,
Amathusia phidippus
(Linnaeus, 1763).
Tribe Amathusiini.
Family Nymphalidae.
Koh Samui, Thailand
d. 15 january 2011.
Photographer; Erni Boesen
Koh-i-Noor,
Amathuxidia amythaon (Doubleday, 1847).
Tribe Amathusiini. Family Nymphalidae.
Nanga Sumpa longhouse, Upper Batang Ai, Sarawak, Borneo
d. 26 february 2012.
Photographer; Hanne Christensen
Split-banded Owlet,
Opsiphanes cassina (Felder & Felder, 1862).
Tribe Brassolini.
Family Nymphalidae.
Caranavi , Yungas, Bolivia
d. 17 january 2010.
Photographer; Lars Andersen
---