Caranavi to Guarnay, elev. 600/400 m. part 3.
Enero 2012
sitio 76
first update d. 22 March 2012
last update d. 22 March 2012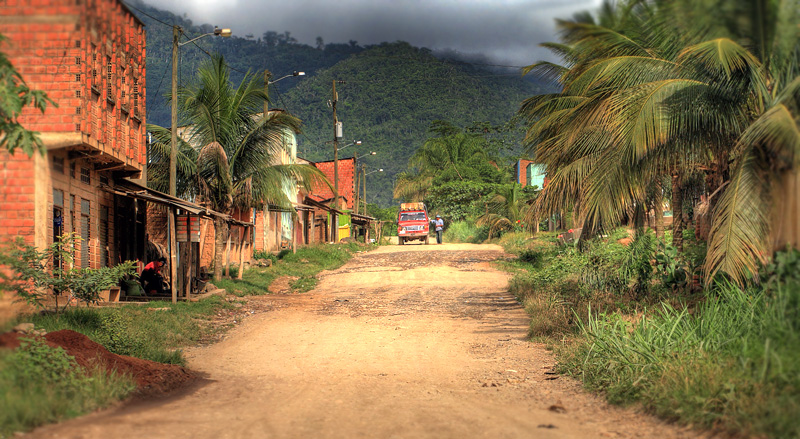 Caranavi - Guarnay
The road between Guarnay and Caranavi contains more exciting localities as Rio Broncini, San Juan, Alcoche and Rio Zongo as all are found along the Rio Coroico. There where Rio Coroico flows into the Rio Beni runs it up along with Rio Beni in order to get to the Guarnay which is gold city.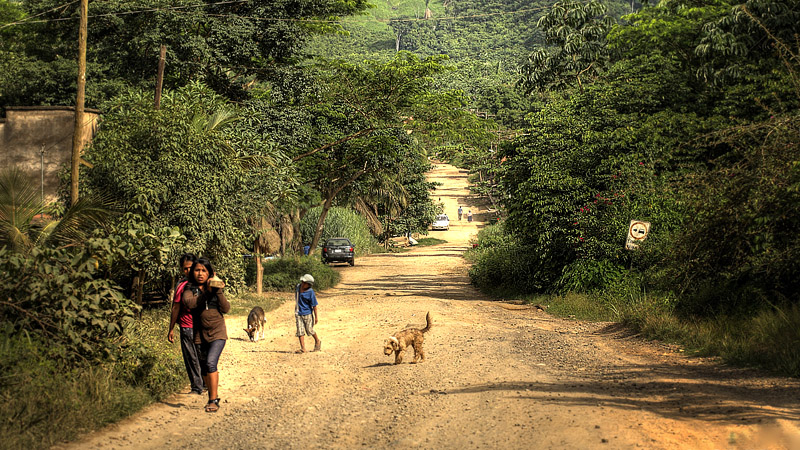 Connection between the Caranavi and Guarnay is a small muddy road which regularly hit by undermining and mudslides, it may be a little too exciting to run what I myself experienced this time. There were a few ugly accident during the road to Guarnay 30th January 2012.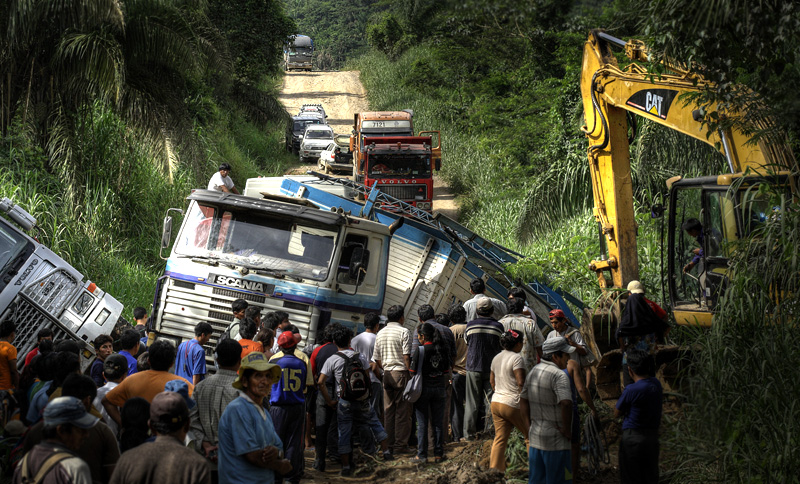 There are several small streams along the road, where you can see some butterflies, even traffic accidents attracts butterflies. It's tough to be butterflies photographer there, it's not for people with a fragile psyche? There are vultures in the trees, waiting for the photographer to finish shooting the poor little butterfly that sits and sucks the blood and faeces of a smashed car.
The town itself Guarnay is unlike Caranavi more pleasant, people were friendly without being intrusive, so I could relax. In the evening I was out and enjoy a beer and some grilled chicken, I stayed at a Recidential at the Central Plaza. And it's not the last time I visit Guarnay. Especially as the world's most exciting locations just around the corner. The town which is located on the Rio Beni, both connected to Rurrenabargue down the Rio Beni through Madidi National Park in areas in the upper Amazon river basin in Bolivia.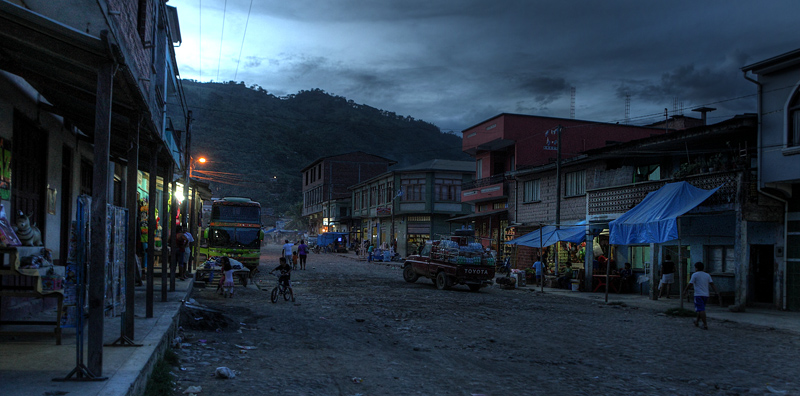 Guarnay in the blue hour, just before I go out and eat. The evening was pleasant, as distinct from the afternoon heat, where you could just sit in the shade and drink iced tea.
Madidi National Park
Madidi is a national park in the upper Amazon river basin in Bolivia. Established in 1995, it has an area of 18,958 square kilometres, and along with nearby protected areas Manuripi-Heath, Apolobamba, and (across the border in Peru) the Manu Biosphere Reserve. Madidi is part of one of the largest protected areas in the world.
Ranging from the glacier-covered peaks of the high Andes Mountains to the tropical rainforests of the Tuichi River, Madidi and its neighbors are recognized as one of the planet's most biologically diverse regions. In particular, Madidi protects parts of the Bolivian Yungas and Bolivian montande dry forests ecoregions.
Madidi is one of the most biologically diverse protected areas on the planet. The park is home to over 1,000 bird species, representing a whopping 11% of the world's 9,000 bird species. Madidi contains large populations of Latin America's most charismatic wildlife species: jaguar, spectacled bear, maned wolf, vicuña, giant otter, Andean condor and military macaw, among others. The newly discovered monkey, 2004; Madidi Titi Monkey, Callicebus aureipalatii lives in Madidi and nowhere else. And it is still possible to find new animal and plant species for Madidi is the southwestern part of the Amazon river system which holds 70% of the world's animal and plant species. And there are areas where researchers have not yet visited in Madidi National Park. And it also applies to a butterfly photographer like me. Because in 2010 I started making BOLIVIAN BUTTERFLIES CHECKLIST.
The Madidi National Park can be reached from Rurrenabaque if you cross the Beni River with the small passenger ferry over to San Buenaventura.
The local people who have migrated here from the Andean highlands speak the Quechua language. The cultures who find their origin here are the Tacana, the Mosete, the Tsimane and the Ese Ejja, all of which have their own language which pertains to one language group.
Here, 3 different species Heliconiini; Bottom left on ground a Juno, Dione juno, center, the big orange butterflies are Julia, Dryas julia. One little orange in the middle is Juliette, Euides aliphera. From January 30, 2012 between Alcoche and Guarnay. Photographer ; Lars Andersen.
Caranavi – Guarnay
Vejen imellem Guarnay og Caranavi rummer flere spændende lokaliteter som Rio Broncini, San Juan, Alcoche og Rio Zongo som alle ligger langs Rio Coroico. Der hvor Rio Coroico løber ud i Rio Beni kører man op langs med Rio Beni for at komme til Guarnay som er guldminebyen.
Selve landevejen er en smal grusvej der jævnligt rammes af underminering og mudderskred, det kan godt være lidt for spændende at køre, hvad jeg selv oplevede denne gang d. 30 januar 2012. Der var et par grimme færdseluheld undervejs til Guarnay.

Der findes flere små vandløb langs landevejen, hvor der kan ses en del sommerfugle, selv trafikulykker tiltrækker sommerfuglene. Det er barsk at være sommerfuglefotograf der, det er ikke for folk med en skrøbelig psyke? Der sidder gribbene oppe i træerne og venter på at fotografen bliver færdig med at fotograferer de kære små sommerfugle der sidder og suger i blod og ekskrementer ved en smadret bil.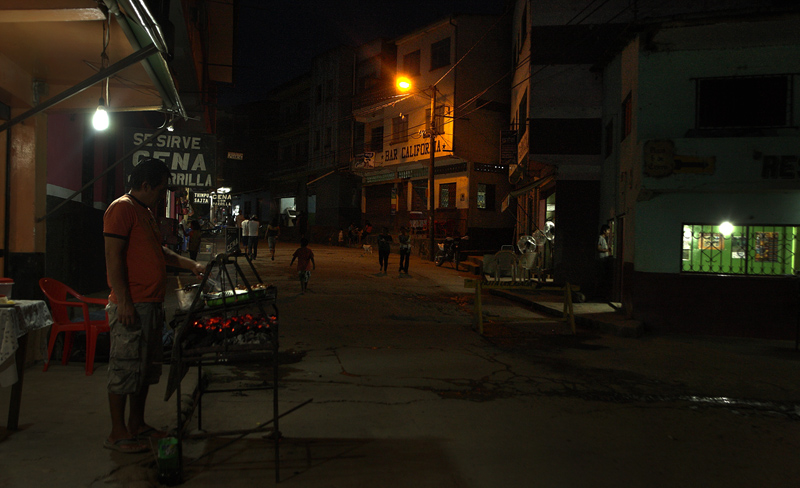 Selve byen Guarnay er til forskel fra Caranavi mere hyggelig, folk var venlige uden at være påtrængende, så jeg kunne slappe af. Om aftenen var jeg ude og nyde en øl og lidt grillet kylling, jeg overnattede på en Recidential ved den centrale Plaza. Og det er ikke sidste gang jeg besøger Guarnay. Især fordi der er verdens mest spændende lokaliteter lige rundt hjørnet.

Byen som ligger ved Rio Beni har bådeforbindelse til Rurrenabargue ned ad Rio Beni igennem Madidi Nationalpark i områder der i det øvre Amazon flodsystem i Bolivia.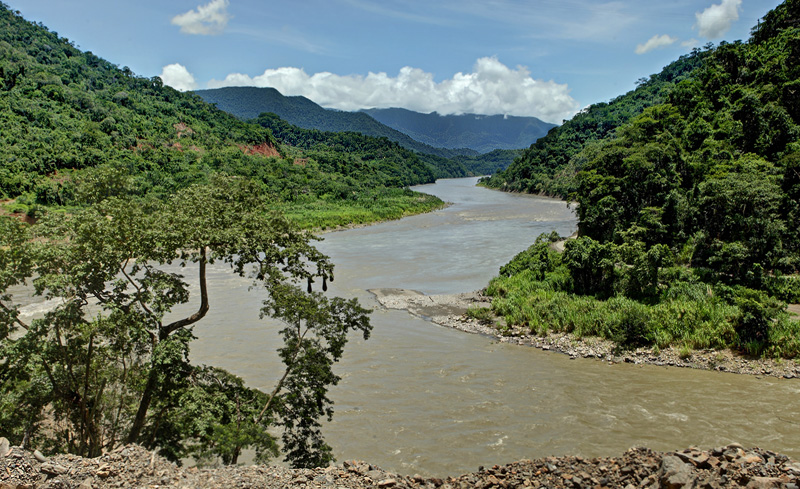 Madidi nationalpark
Madidi nationalpark er etableret i 1995, det har et areal på 18,958 km2, og sammen med i nærheden beskyttet (men ikke nødvendigvis sammenhængende) områder Manuripi-Heath, Apolobamba, og (på tværs af grænserne i Peru) Manu biosfære Reserve. Madidi er del af en af de største beskyttede naturområder i verden. Spænder fra sneklædte bjergtoppe i høje Andes til de tropiske regnskove langs floden Tuichi, er Madidi og dens naboer anerkendt som en af planetens mest biologisk forskelligartede regioner. Navnlig beskytter Madidi dele af den bolivianske Yungas og bolivianske montande tørskove økoregioner.
I Madidi findes en stor population af jaguar, kæmpe flododder, andean bjørn, over 1000 arter fugle ca. 11% af verdens 9000 fuglearter, en mangfoldigt varianter af orkideer og unikke planter. Samt en del af verdens sommerfugle arter. I 2004 blev der fundet en ny abe art i området; Madidi Springabe, Callicebus aureipalatii. Og det er stadig muligt at finde nye dyre og plantearter, for Madidi er det sydvestligste del af Amazonas flodsystem som rummer ca. 70% af verdens dyre og plantearter. Og der er områder hvor forskere ikke endnu har besøgt i Madidi nationalpark. Og det gælder også for en sommerfuglefotograf som mig. Se BOLIVIAN BUTTERFLIES CHECKLIST.
Nationalparken Madidi kan nås enten fra Guarnay ad Rio Beni, eller fra Rurrenabaque hvis du krydser floden Beni med små færger over til San Buenaventura.
De fleste mennesker i regionen er indvandret fra Altiplano som taler sproget Quechua. De kulturer, der oprindelig hører hjemme her er; Tacana, Mosete, Tsimane og Ese Ejja, som alle har deres eget sprog, som hører til samme sproggruppe.

---
dont use this pictures without permission from:
photographer © Lars Andersen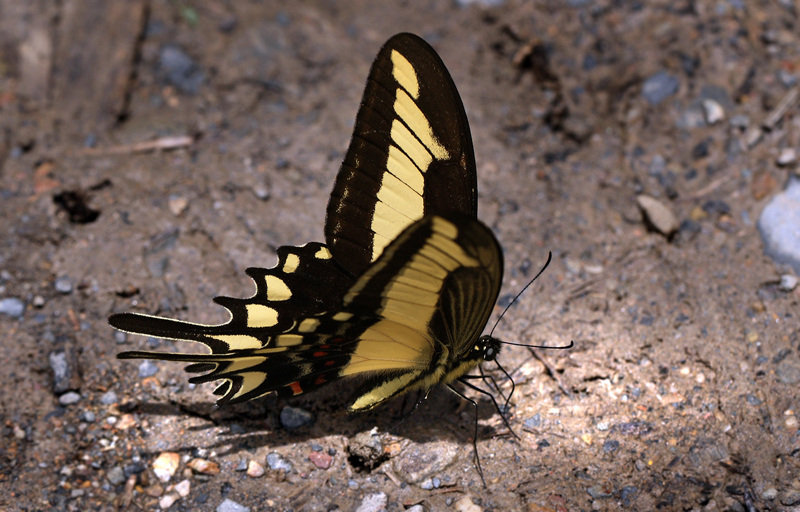 Butterflies from
Caranavi valley, elev. 600/1000 m. Part 1.
Enero 2012 sitio 74
---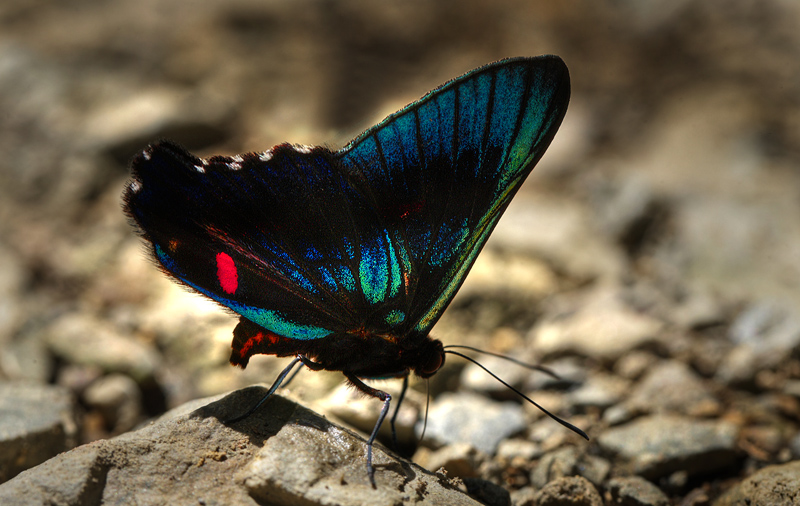 Caranavi hills, Yungas, elev. 1000/1400 m. part 2.
Enero 2012 sitio 75
---
Mariposas de Bolivia
Enero 2012
por Peter Møllmann & Lars Andersen
---
Mariposas de Bolivia
Enero 2010
por Peter Møllmann & Lars Andersen
---
Mariposas de Bolivia
Enero - Febrero 2009
por Peter Møllmann y Lars Andersen
---
Mariposas de Bolivia
Enero - Febrero 2008
por Peter Møllmann y Lars Andersen
---
Mariposas de Bolivia
Enero 2007
por Peter Møllmann y Lars Andersen
---
Mariposas de Bolivia
Enero 2006
por Peter Møllmann y Lars Andersen
---
Home tilbage til forsiden