Bolivian Butterflies Checklist
sitio 145
Dayflying Moths from Yungas
first update d. 27 March 2010
last update d. 9 February 2018
Redactor: Lars Andersen
bajo construccion
---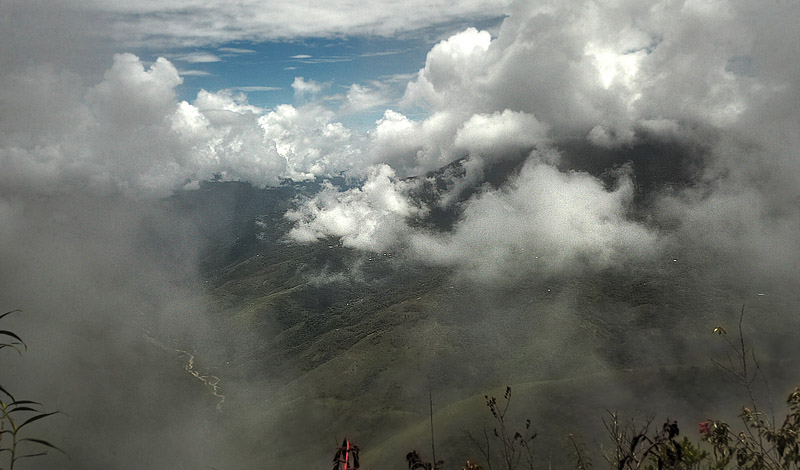 View from Kori Wayku Inca Trail, Coroico, Yungas, Bolivia d. 2 february 2010. Photographer; Lars Andersen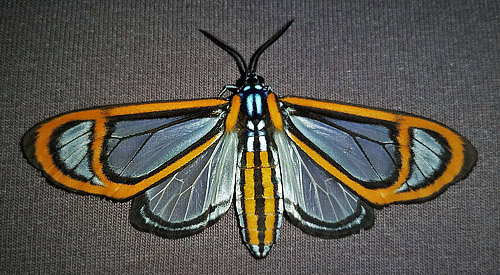 Clearwing Tiger Moth, Hyalurga fenestra (Linné, 1788).
Caranavi, Yungas, Bolivia february 5, 2018. Photographer; Peter Møllmann
Giant Sugarcane-Borer, Castnia licus Fabricius (Castniidae).
The caterpillar of this gaudy moth bores into the stems of sugar-cane. Castnia genus of dayflying moths, together with other Castniids, were a one time grouped with the butterflies they resemble in antennal shape, wingshape and coloration.
Ctenuchidae.
Many of the 3000 species of this family of moths are mimics of various genera of wasp.
Chetone Boisduval (Hypsidae).
About 11 species are place in this neotropical genus of day-flying moths. Most species are apparently mimetic partners of various species of Heliconiinae, Ithomiinae and other butterflies and moths.
Darna Walker (Hypsidae).
There are a present 18 species exclusively neotropical genus of moths. One group of brilliantly colored species which includes D. colorata, is a model for species of Lucillella, a genus of Riodinidae butterflies. Another group is mimetically associated with Dioptidae.
Urania Fabricius (Uraniidae).
This is the only New World representative of its family. In colour patern and particularly in coloration it is similar to the African and Madagascan genus Chrysiridia. There are about 8 species, all solely neotropical in distrubution.
Erateina julia. (Subfamily Larentiinae).
comprises of about 80 known species. Most are dark brown on the upperside, with a white patch or bar on the forewing. The hindwings are often marked with streaks of yellow or red, but in some species are plain brown.
Pseudatteria Walsingham (Tortricidae).
This is a genus of micro-moths with large, brightly coloured species, probaly some of the most remarkable-looking of all the neotropical Tortricids. Since all the species of Pseudatteria are brightly coloured and conspicuously patterned it is assumed that they are the distasteful models and the species in other genera, which look like them, the mimics.
Linnaeus's Joker, Cyllopoda jatropharia (Linnaeus, 1758).

It seems likely that Cyllopoda could be members of a mimicry complex that involves several genera of yellow and black diurnal moths including Formiana, Xanthiris, Seriocastnia and Myonia; and butterflies such as the metalmarks Riodinidae; Chamaelimnas briola and the skippers Pyrginae; Cabirus procas.

The genus Cyllopoda comprises of 16 species. They are members of the family Geometridae, subfamily Sterrhinae, which is itself comprised of over 2800 species worldwide. Few however are as striking as the yellow/black Cyllopoda genus!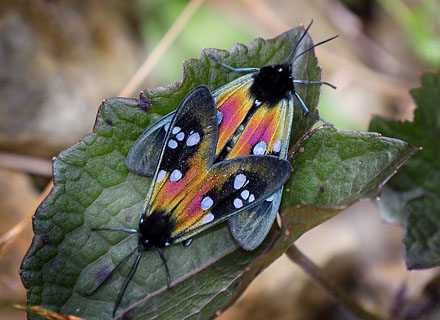 Sacramento Alto between Yolosa and Unduarvi. 2700 m.a. 30th January 2015. Photographer; Peter Møllmann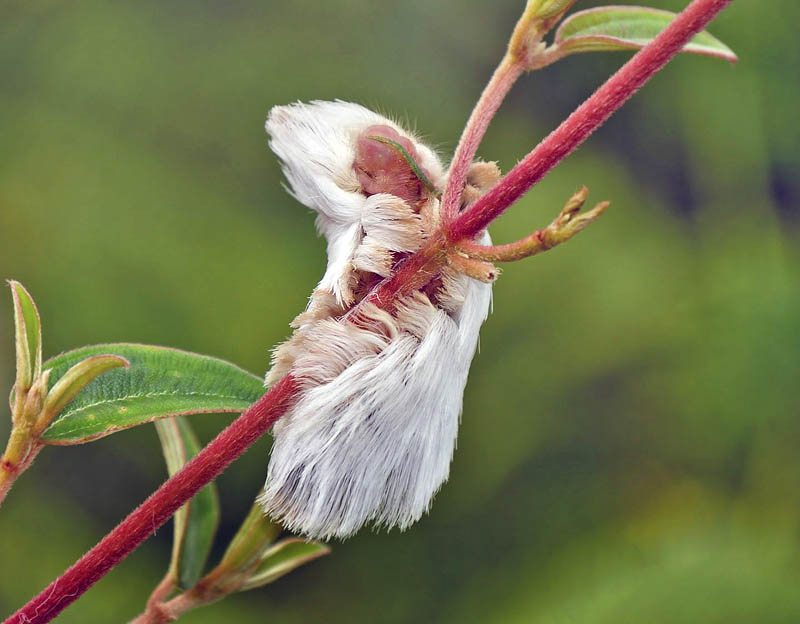 Flannel Moth, Family: Megalopygidae. Caranavi december 2014. Photographer; Peter Møllmann
---
Mariposas de Bolivia
Enero 2010
por Peter Møllmann y Lars Andersen
---
Mariposas de Bolivia
Enero 2009
por Peter Møllmann y Lars Andersen
---
Mariposas de
Bolivia
Enero - Febrero 2008
por Peter Møllmann y Lars Andersen
---
Mariposas de Bolivia
Enero 2007
por Peter Møllmann y Lars Andersen
---
Mariposas de Bolivia
Enero 2006
por Peter Møllmann y Lars Andersen
---
link to Neotropical Butterflies of Will Carter and Kim Garwood, Metalmarks
---